I'm super excited about three gifts I designed and purchased for my kiddies and one of their friends. ALL of them LOVE puzzles, so I thought it would be a blast if they had to put a puzzle together of themselves. Right now, the puzzles are on sale from $24.99 to $19.99 and there are all kinds of coupon codes on retailmont.com to bring this puzzle down to $10.00.
The puzzles range from 60 pieces to 252 pieces. I got Lilah and Jaxon the smaller puzzle to start with. If it's a big hit, I will get them the bigger one.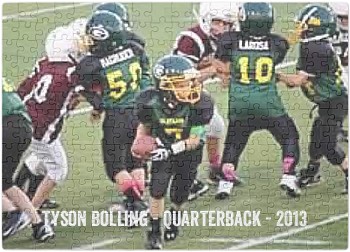 Photo Gallery Puzzle
Unique party invitations and announcements by
Shutterfly
.
While I was in the creative mode, I went ahead and ordered a puzzle for Gabe too. His birthday is December 27th! If I didn't order it now, I know I would never remember in the midst of all of the Christmas excitement/celebrations. Tyson and Gabe's puzzle has 252 pieces. This will be a great task to take on during a cold, wintery, rainy day! Afterwards, it would be cool to frame and hang in their sports rooms. Try coupon codes saleonsale and ship49. The first code will get you 50% off and an additional 20% off. The ship49 code is FREE SHIPPING on any orders over $50.00. I saved over $79 on my shutterfly order tonight. I also had a $10 off coupon code. Shutterfly allowed me to use ALL THREE COUPONS! What a great company/steal.